About
The Visual Arts Fund is a grant program established in 2016 by Midway Contemporary Art with generous support from The Andy Warhol Foundation for the Visual Arts. Minneapolis–Saint Paul is one of thirty-two metro areas included in Warhol's Regional Regranting Program, which is aimed at promoting vibrant artistic activity in cities across the United States.
In 2023 the Visual Arts Fund will award $60,000 (six $10,000 grants) to artist organized projects in the Twin Cities metro region. Proposals must name a lead organizer, but can include any number of artists as collaborators; individuals or groups may apply. The VAF supports the development of projects and initiatives that engage the public with visual art and seeks to support a wide array of innovative and diverse projects that otherwise might not occur.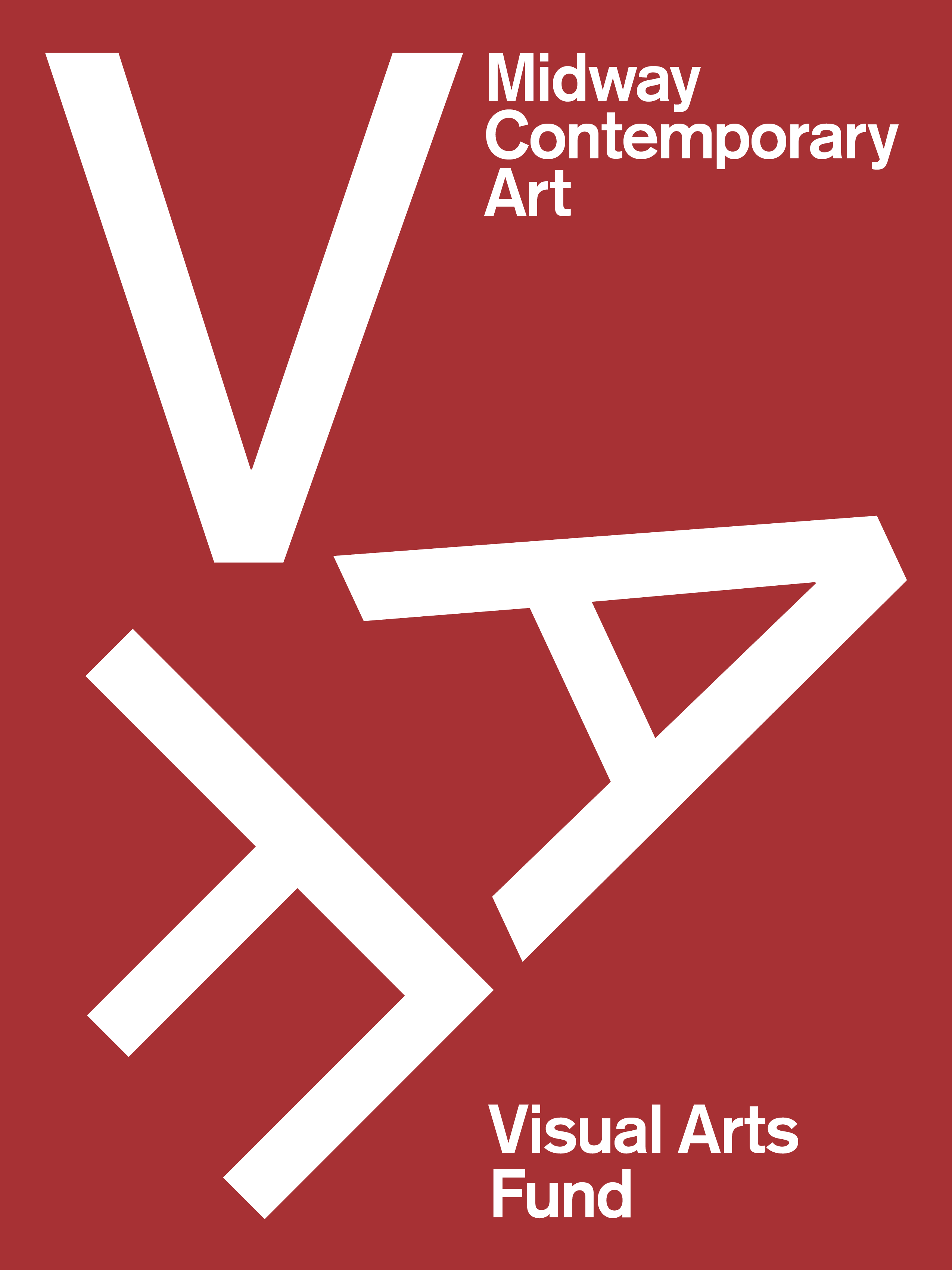 Visual Arts Fund Archive
About The Andy Warhol Foundation for the Visual Arts' Regional Regranting Program
The Regional Regranting Program was established in 2007 to recognize and support the movement of independently organized, public-facing, artist-centered activity that animates local and regional art scenes but that lies beyond the reach of traditional funding sources. The program is administered by non-profit visual art centers across the United States that work in partnership with the Foundation to fund artists' experimental projects and collaborative undertakings. The Twin Cities is one of thirty-two locations to host The Andy Warhol Foundation for Visual Arts' Regional Regranting program, making funding available for artists in the 7-county metro area.
Thirty-one additional programs provide grants of up to $10,000 for the creation and presentation of new work. Programs are developed and facilitated by organizations in Alabama, Albuquerque, Atlanta, Baltimore, Boston, Chicago, Cleveland, Denver, Detroit, Houston, Indianapolis, Kansas City, Los Angeles, Miami, Milwaukee, Knoxville, New Orleans, Newark, Oklahoma, Omaha, Philadelphia, Phoenix & Tucson (AZ), Portland (OR), Portland (ME), Providence, Raleigh & Greensboro (NC), Saint Louis, San Francisco, San Juan, PR, Seattle, and Washington D.C.
Information Sessions
We encourage anyone interested in applying for a 2023 VAF grant to join us at Midway for an informational session. We will cover eligibility and guidelines, answer questions regarding the application process, and be available to discuss project ideas one-on-one.
In-Person Info Session 1
Tuesday September 5, 2023, 6:00 pm
Springboard for the Arts, Resource Lab
262 University Ave West, Saint Paul, MN 55103
In-Person Info Session 2
Saturday September 9, 2023, 3:30 pm
Midway Contemporary Art Library
201 6th St SE Suite 4, Minneapolis, MN 55414
Midway's Library is accessible to all visitors. ASL interpretation is available upon request with two weeks' advance notice. Please contact us for more information, or to request specific accommodations.
A pre-recorded informational session is embedded below.
FAQs
Download a PDF of Frequently Asked Questions:
Please email vaf@midwayart.org or call (612) 605-4504 if you have additional questions about the program.
We encourage you to call if you would like to discuss your idea or have specific inquiries related to the eligibility of your project proposal.
2023 VAF Grant Timeline
Online Application Opens:
Thursday, September 1
Application Due:
Saturday, September 23, 5pm (CDT)
Grantee Notification:
December 2023
Funding Awarded:
January 2024
Application Review
Following the close of the grant application on September 23th, a panel of jurors will review the applications for eligibility and priorities.
Panelists will consider each eligible proposal in the areas of Artistic Excellence, Community Impact, and Feasibility.
Alternative Formats
These guidelines can be made available in alternative formats or languages. To accommodate your request, please contact us at vaf@midwayart.org or (612) 605-4504.
Application Details
The 2023 VAF Grant application has closed. Grantees will be announced in mid-December.
The 2023 application included the following six sections:
1) Contact Info
Please provide the following information for the Lead Organizer:
Name
Address
County (drop down list)
Email
Phone
I identify as… (50 words max, please include all demographic information that applies)
2) Project Summary
Title of Project
Project Start Date
Project Completion Date
Total Project Budget
Project Summary (100 word max)
3) Visual Support Materials
Visual support materials should help the jurors understand the project and your ability to realize it.
For each of your support materials, please include a description and relevant explanatory notes (max 50 words per entry). Please provide 10 visual examples, including:
Images (up to 10 total, max 2MB each — .jpeg, .jpg, .gif and .png are accepted)
Website URL (up to 2 total — must be relevant to the project and offer additional information on your ability to realize the proposed project)
Video (up to 2 total, max 2 min each — video files must be hosted on a video platform such as YouTube or Vimeo; include a password in the description section if your account is private)
4) Project Description
Describe your project (max 100 words for each question):
What is your project?
How does this project involve the work/practices of other individuals?
How will you determine others involved?
Where will the project ideally take place?
What is the project timeline?
Who is your primary audience?
What component of your project will be accessible to the public?
Why is it important for this project to occur?
5) Bios
Please provide a short bio for the lead organizer, as well as any key collaborators and artists (up to 5 bios, max 100 words each). Focus on experience relevant to this project. We will not accept CVs or resumes.
6) Budget
Please list expenses for your project. This program supports fair pay for all artists involved with your project; Lead Organizers may budget up to 15% of the total grant requested for their time organizing the project.
You are not expected to have additional income for the project outside of the Visual Arts Fund grant, but please indicate it if you plan to do additional fundraising and what your goals are. Your budget must show a zero balance between your Expenses and Income.
Expenses (Lead Organizer stipend, artist stipends, materials, facility rental, equipment rental, production costs, marketing, reception costs, other)
Income (other grants, crowd funding, personal contributions, etc. — not required)
In-Kind donations (donated location, pro-bono design services, donated materials, etc.)